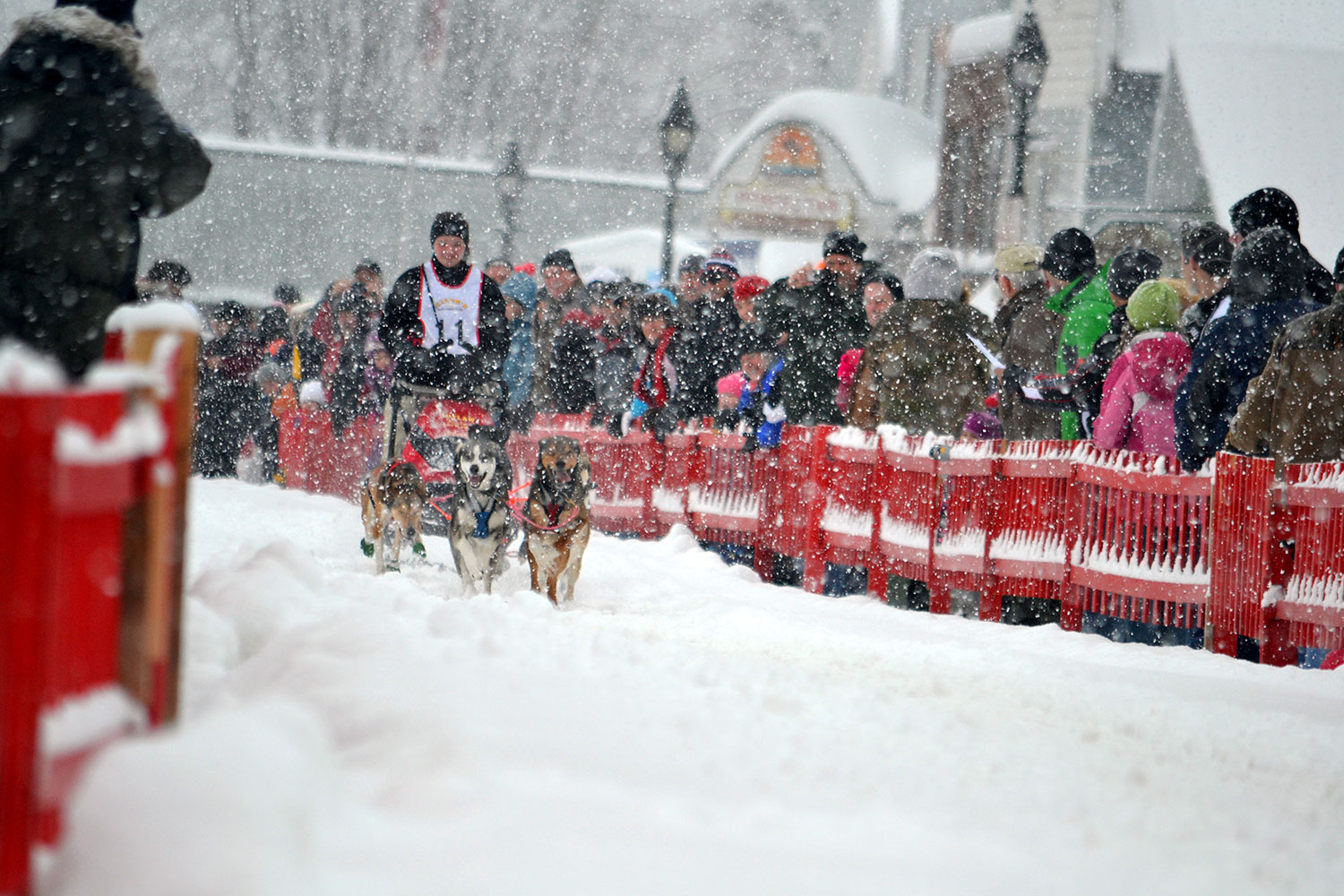 Brought to you by the Inn of Acadia
Imagine it's 6 in the morning and you've already eaten a hearty breakfast and been up for hours, buried under layers of warm clothing and outerwear. Your nostrils are frozen and puffs of white, crystalized air burst from your nose with each breath. It might be -40 degrees, or it might be warmer – like 10 degrees, but you don't mind a bit. You've checked your list a dozen times, but you go through it all again. You feed and harness a dozen or so excited dogs who are yipping and jumping in anticipation. You ready your paperwork for the veterinarians and race officials, place doggy booties on your teams' feet, and load everyone into your dog truck to head to the starting line.
You arrive early and take your position in the staging area. Despite the time of day, crowds have already begun to gather. There's a few reporters walking around with giant cameras and notebooks with pencils (because pens freeze in this weather). One of them stops to talk to you about your experience and expectations for the day(s) ahead and you pause in your pre-race preparations to talk to them for a moment. Even your team seems eager to share their thoughts as they bark and dance for attention. The reporter meanders away down the line of teams that are now arriving in quick succession. The air is full of raw energy. Dogs are barking in every direction and more and more people are lining the street near the starting line. Maybe the temperature has gone up a few degrees. Maybe not. It doesn't matter.
Just before it's your turn to move to the starting line, you visit the dogs on your team, scratching their ears, giving them kisses and whispering to each of them to run like the wind. You help your handlers as they move your team into position. You know your dogs are eager to go. The handlers are having a hard time holding them. You take your place on the sled the team will pull and you wait for the whistle.
You're off! The handlers let go and the team jerks forward pulling you and the contents of the sled down a street of snow. The crowd shouts and waves as you go by. You reach out and slap the hand of a young boy wearing a husky hat and then the crowd is gone, and there's nothing ahead but white wilderness. The race is on.
People often associate the sport of dog sledding with Alaska. In Alaska, though, dog sledding is more than a sport. It's more than a mode of effective transportation across wild and rugged terrain in harsh winter conditions. In Alaska, it's a tradition, steeped in history and celebrated each late winter with perhaps the world's most famous dog sled race, the infamous and grueling Iditarod. While Northern Maine isn't exactly Alaska, though recent temperatures may have people feeling like it is, we do share in our love for and appreciation of dogs who pull sleds laden with people and cargo across the frozen lakes and fields, and through the forests and hills of our beloved region. Here in the St. John Valley, we even have our own traditions when it comes to dog sledding.
In fact, each year in late February or early March, the town of Fort Kent, located approximately 22 miles to the west of Inn of Acadia, hosts an incredible dog sledding experience that is like none other in Aroostook County, some say in the entire Eastern United States. The 250 mile Can-Am Crown International Sled Dog Race began more than 20 years ago with just nine teams participating. Today, the race consistently draws dozens of teams from across the U.S. and Canada and hundreds or thousands (usually depending on weather conditions) of spectators. This year's race is set to begin Saturday, February 28 and is anticipated to run through to Tuesday, March 3 when the last of the racers will cross the finish line.
For the mushers, race preparations begin months in advance. The Can-Am Crown 250 is a qualifier for Alaska's Iditarod – the gold standard in dog sled racing. That means the Can-Am Crown 250 attracts serious professionals in the sport who come to the St. John Valley to vie for their piece of a $40,000 purse. Two other smaller races take place during the event, a 60-mile race and a 30-mile race, for local dog sled enthusiasts and those who are just starting out in the sport or who are building their experience in hopes of one day competing in the main event.
Guests at the Inn of Acadia looking for a truly unique experience during their winter stay, should consider joining the throngs of spectators who venture out to the race sidelines on Saturday morning to cheer on the mushers as they embark on a courageous battle against the elements. Sure, it might be cold, but the festival-like atmosphere on the sidelines of the Can-Am Crown International Sled Dog Race is enough to warm even the coldest noses. There are plenty of ways to stay warm, actually. Grab a cup of cocoa or some chicken stew and ployes to warm your insides, and step into any of the many warm businesses who extend their hours and open early to welcome the crowd with some St. John Valley hospitality. Of course, the spectators generate a bit of warmth themselves and so Main Street always feels a degree or two warmer than the actual temperature. Arrive early, as parking is limited. The last of the teams take off before noon, but it's also interesting to stick around to watch crews clean the snow track off of Main Street.
For adventurous visitors who may be interested in a more up-close-and-personal sled dog adventure, we suggest you check in with some of the local mushers who offer up riding excursions. One such experience is available at the Lugdon Lodge in Eagle Lake. Co-owner Marion Lugdon offers dog sledding adventures customized to your liking. Any weekend, or any weekday evening, interested adventurers can call and make an appointment for some hands-on learning about the sport of dog sledding.
In a typical session, Marion will introduce you to the dogs and teach you how to harness them. You will learn terminology and commands and how to hook the dogs safely to the sled. First timers will ride in the sled basket while Marion guides the dogs, but then, once a person is comfortable, they are welcome to take control and actually drive the sled. Depending on what kind of tailored adventure an individual or family wants to experience, the cost ranges from $50 to $150 for a session. The dog team can safely pull upwards of 300 pounds. Marion offers special after-dark excursions during the full moon and even a tranquil, more secluded adventure where the team pulls the riders to a remote location where they can have a campfire and eat s'more's or hot dogs before returning to base camp. The dogs follow their own trails that are separate from the local snowmobile trails so the experience can be both exhilarating and relaxing. For more information on these winter adventures, contact Marion Lugdon at (207)-444-4557.
For more information on the Can-Am Crown International Sled Dog Race, visit http://www.can-am-crown.net/.